You can use iMind without registering, by following the invitation link. Registration opens additional functionality: conference organization, call recording, invitation link generation. To sign up or log in, go to https://imind.com and click on Try for free or Log in the upper right corner.
iMind supports authorization via a one-time code or Google account
Authorization via a one-time code
To log in securely, we recommend using a one-time code. iMind uses it instead of account name and password. The code is sent to your email. For security reasons, we don't store nor do we use passwords.
To log in using this method:
Go to https://imind.com and click on Log In or Sign Up.
Enter your email and click on Log In or Sign Up.
Check your email. The code is there. Use it on iMind

The code is valid for 15 minutes. If it doesn't appear in your inbox, check the Spam folder.
If you didn't receive the code or didn't use it in time, send it once again. To do that, click on Send a new code on the platform.
You can also authorize via Google. In that case, your account security is up to Google to keep.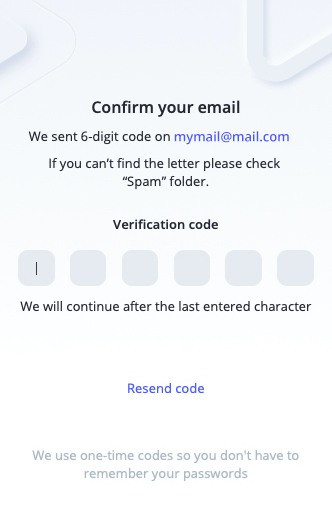 Logging in with Google
You can sign up or log in to iMind with a Google email account. To do that, click on Log in with Google and choose the username with which you'd like to authorize.