To choose a camera or a microphone for your meeting, click the Device settings button.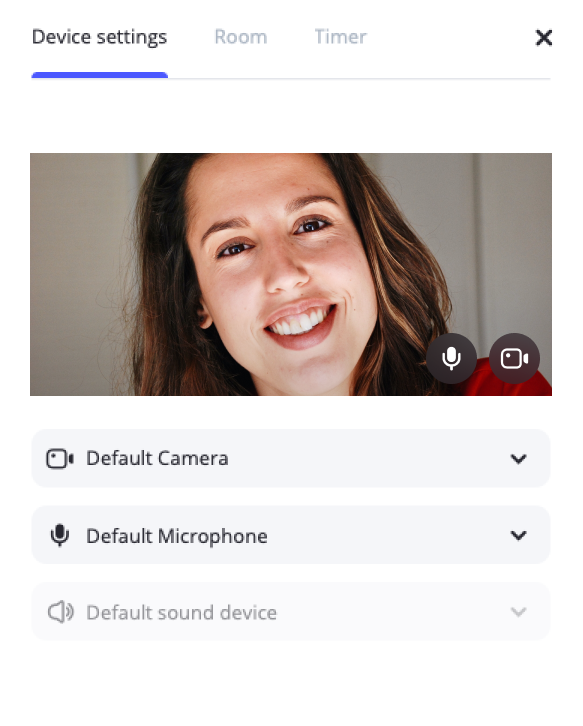 Sometimes a problem may occur, and your devices won't show up. These are the steps we suggest that you take if it happens.
Check your camera and microphone settings in the browser
Clear cache and cookies
We recommend that you clear cache and cookies before moving on to the next steps. You will find the guidelines on how to do that for your browser down below:
Restart your computer after clearing the cache and cookies.
Update your browser
An outdated version of a browser may also be causing these problems. Browsers are usually updated automatically, but it might not be the case in some scenarios. To find out how to update your browser, follow the link down below:
Microsoft Edge - can't be updated manually; it updates automatically with Windows updates.
If these steps didn't help, we recommend checking your system settings:
MacOS
Apple has invented new privacy settings for the camera and microphone in the macOS Mojave update. Although they are overall important, they might negatively affect how your browser detects your devices. To solve this problem:
Click on the Apple icon in the top left corner and go to System preferences.




Choose Security & Privacy.
Press the Camera button and tick all the needed browsers.




Go to the Microphone section and tick all the needed browsers.
Restart your browser.
Windows
Windows 10 offers some system camera settings. Not only that, Windows also allows a user to choose a default microphone.
Camera permissions
Press the Start button and click on the gear icon
Go to Privacy
Choose Camera
Allow your browser access to the camera
Default microphone
Hover your mouse over the speaker icon on the taskbar, press right mouse button and choose Open sound settings
Find Choose your input device menu and select the microphone you're using
If the steps above didn't help
Browser extensions
To eliminate the possibility of a conflict between browser extensions and a website, open a new Incognito browser tab. If the website starts working correctly, it's highly likely that some extension causes the problem. Finding out which one exactly is impossible unless you turn them off one by one.
Firewall adjusting
Firewall and network settings can be the cause of connection issues with some browsers. For instance, Mozilla can't connect through very strict firewalls. To deal with this problem and avoid any browser mistakes as well, try using a different browser.